How to Make Dairy-Free Vegan Nachos
Disclaimer: As an Amazon affiliate, I earn from qualifying purchases made through links provided in this post. This comes at no additional cost to you, but it helps support my blog and allows me to continue creating content. Thank you for your support!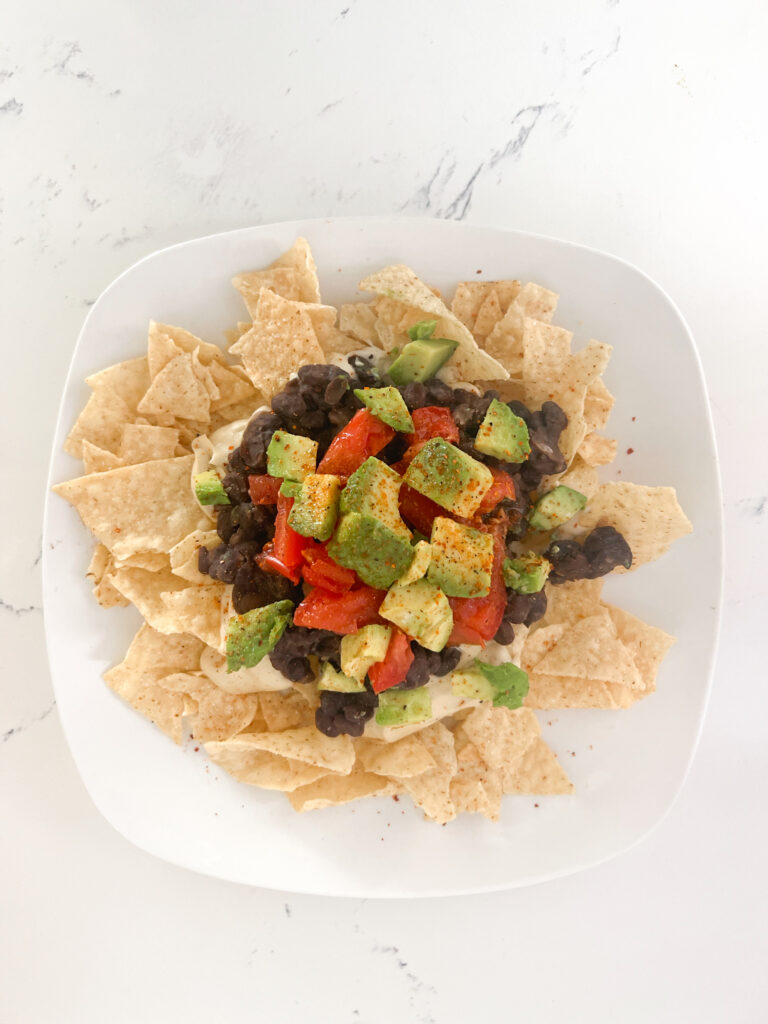 Introduction
Nachos have always been a favorite snack for many, perfect for movie nights, parties, or just a delightful evening treat. However, for those who can't eat cheese, the traditional recipe can be a no-go. But don't fret! There's a way to enjoy this treat without the dairy, and I'm here to share the magic with you.
Why Go Dairy-Free?
For many, the choice to go dairy-free isn't just a dietary preference but a necessity. For individuals who are lactose intolerant, dairy can lead to uncomfortable symptoms. Personally, I can't have dairy because it causes digestive and skin issues for me. It's actually one of the reasons I became plant-based. Beyond that, some choose a dairy-free diet due to ethical reasons, health reasons, or a desire to lead a vegan lifestyle. Whatever your reason, there's no need to miss out on the joys of nachos.
Benefits of a Dairy-Free Diet
Digestive Comfort: Reduces symptoms for those lactose intolerant.
Eco-friendly: Dairy farms can have environmental implications.
Animal-friendly: Vegan choices lead to reduced animal harm.
Health Perks: Some studies suggest reduced dairy can lead to clearer skin and reduced risk of certain health issues.
How to Make Cashew Cream aka Your Nacho Cheese
Cashews, with their inherent creamy texture when blended, make for an excellent cheese substitute. Rich in healthy fats and minerals, they're a nutritious and tasty option for our nacho creation.
Ingredients:

1 cup of raw cashews (soaked for 4 hours or boiled for 15-30 minutes)
Garlic powder
1/4 cup nutritional yeast
Juice of one lemon

Procedure:

Drain and rinse the soaked cashews or boil cashews for 15-30 minutes.
Blend all ingredients in a high-speed blender until smooth, adjusting water as needed.
Taste and adjust seasoning. Use immediately or store in the fridge for up to a week.
Assembling Your Dairy-Free Vegan Nachos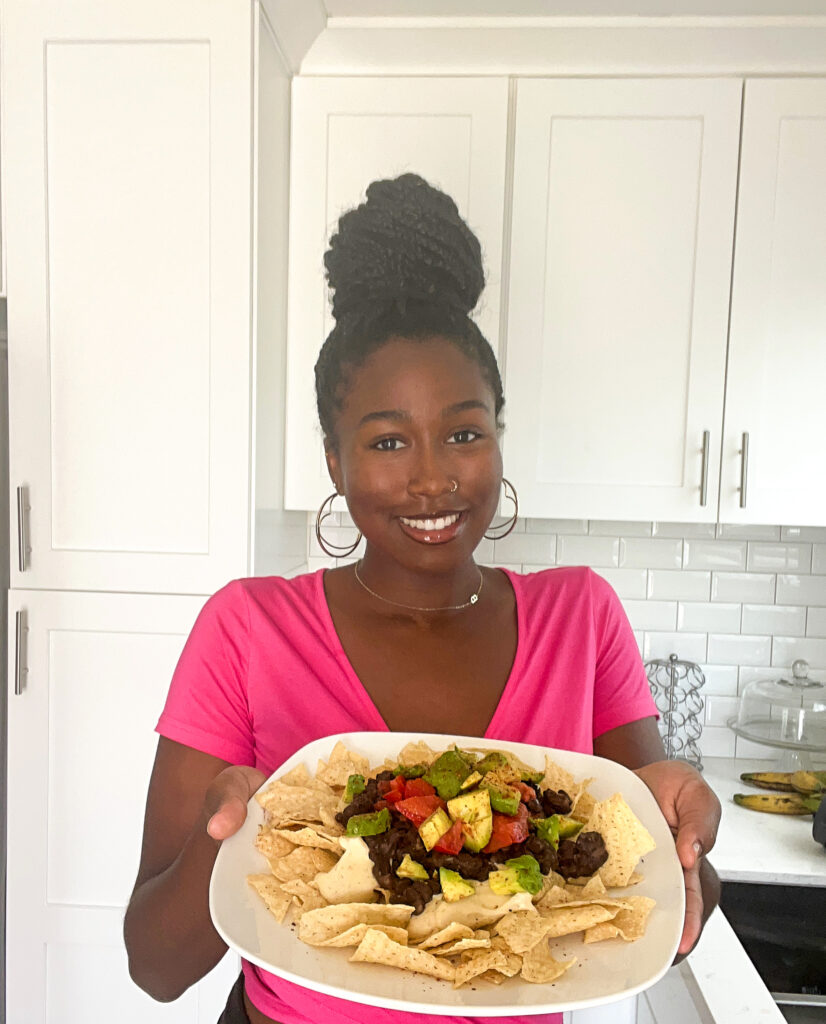 With your cashew cream ready, it's time to put your nachos together!
Chips: Lay out your favorite tortilla chips on a tray or plate.
Drizzle with Cashew Cream: Generously or sparingly, as you like!
Toppings: Add beans, guacamole, jalapenos, olives, or any of your preferred toppings.
Bake or Serve Fresh: Some prefer their nachos hot and crispy from the oven, while others love them fresh. The choice is yours!
Pairing with Perfect Dips
A good nacho dish isn't complete without dips. Consider these:
Salsa: A tangy and spicy option.
Guacamole: Creamy goodness from avocados.
Vegan Sour Cream: Can be made using tofu or cashews.
Serving Suggestions and Variations
The best thing about nachos? They're highly customizable!
For Meat Lovers: Add vegan meat crumbles.
Tex-Mex Style: Incorporate vegan chili.
Extra Veggie: Top with roasted veggies for a nutritious punch.
Storing and Reheating Tips
Avoid Sogginess: Store chips and toppings separately.
Reheat in Oven: Brings back the crispiness better than a microwave.
FAQs (Frequently Asked Questions)
What if I'm allergic to cashews?
There are many other nut-based or seed-based cheeses available, like almond or sunflower seed cheese. You can also just use store-bought vegan cheeses like. Always pick what's safe for you.
Do I have to soak the cashews?
Soaking cashews softens them, making blending easier and the cream smoother. If you're short on time, a hot water quick-soak for 20 minutes can work too.
Can I freeze the cashew cream?
Absolutely! It can be frozen for up to two months. Just thaw in the fridge overnight before using.
Are there other vegan cheese options?
Yes! From store-bought vegan cheeses to homemade almond or tofu-based cheeses, there's a wide variety to explore.
How long do the nachos last?
If stored properly, they can last up to 3 days in the fridge. However, for optimal freshness and crunch, it's best enjoyed immediately.
Is this recipe gluten-free?
Yes, as long as you ensure the tortilla chips and other ingredients used are gluten-free.
Conclusion
Being dairy-free does not mean that you have to eliminate nachos all together. It just means that you have to make it differently. With this guide on How to Make Dairy-Free Vegan Nachos, you have a simple and tasty way to enjoy a classic favorite. Whether it's for ethical reasons, health choices, or simply curiosity, everyone can enjoy the rich flavors and textures this dish offers. So, gather your ingredients, get cooking, and dive into a plate of nacho goodness!
Happy Eating!
With Love,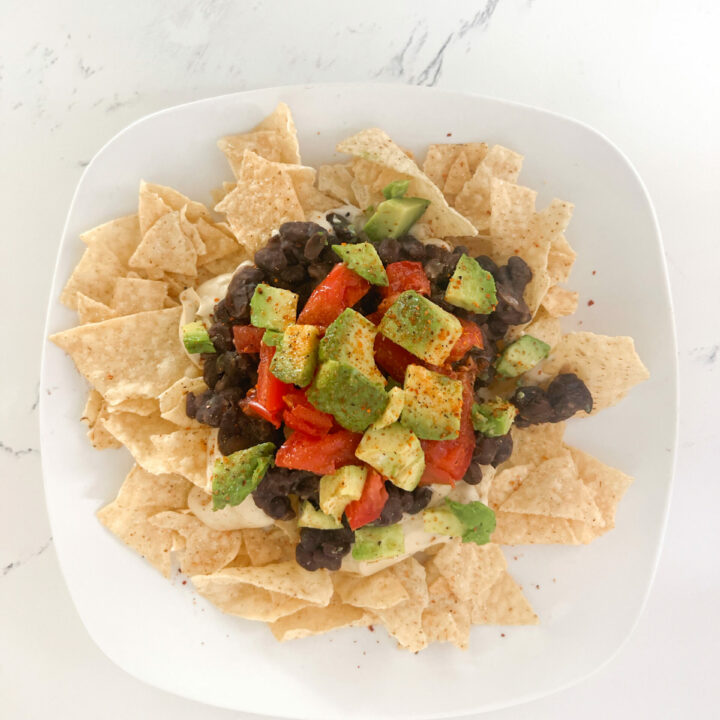 Vegan Dairy-Free Nachos
Ingredients
Cashew Cream
Raw Cashews
Garlic Powder
Nutritional Yeast
Lemon
Seasonings
Water
Toppings
Avocado
Tomatoes
Black Beans
Anything else you like
Instructions
If using the soaking method, soak cashews in water overnight. Alternatively, boil them for 15-30 minutes.
Drain and rinse the soaked or boiled cashews.
Blend cashews, garlic, nutritional yeast, lemon juice, and salt in a high-speed blender until smooth. Adjust the water to the desired consistency. It should create a cream that is easy to start
Taste and adjust seasoning if needed.
Lay tortilla chips on a tray.
Add beans, guacamole, jalapenos, olives, and any additional preferred toppings.
Drizzle generously with the prepared cashew cream.
You can serve fresh or bake in a preheated oven at 375°F (190°C) for 10 minutes or until chips are crispy and toppings are heated.
Serve immediately with optional dips like salsa or additional guacamole.
Notes
Vegan meat crumbles or roasted veggies can be added for a richer flavor.
Store-bought vegan cheese can also be used as an additional or alternative topping.
Cashew cream can be stored in the fridge for up to a week.
Recommended Products
As an Amazon Associate and member of other affiliate programs, I earn from qualifying purchases.
Nutrition Information:
Yield:

4
Serving Size:

1
Amount Per Serving:
Calories:

208
Total Fat:

11g
Saturated Fat:

2g
Trans Fat:

0g
Unsaturated Fat:

9g
Cholesterol:

0mg
Sodium:

15mg
Carbohydrates:

22g
Fiber:

9g
Sugar:

2g
Protein:

9g
The nutritional information provided for this recipe is an estimate and should be used for informational purposes only. Factors like ingredient substitutions, portion sizes, and preparation methods can alter the nutritional values. For precise nutritional data, it is recommended to consult a registered dietitian or use a trusted nutrition calculator based on the exact ingredients you used.